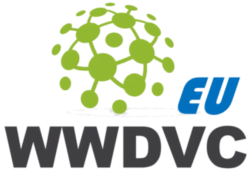 WANT TO SPONSOR?
BECOME A SPONSOR
Become part of the WWDVC Europe success story and fill in the sponsorship application below to have the chance to be part of WWDVC Europe right from the start.
The hands-on sessions will be run on Monday and Tuesday. Hands-on session requirements are:
your software must run on a cloud,
or allow students to download and run a personal VM on their own laptops.
If this is the case, you must provide us with minimum laptop specifications for attendees.
Minimum laptop specifications must be provided before August 15th, 2019 (so we can notify attendees of requirements)
Sponsorship levels
WWDVC EUROPE
Platinum Sponsor
€

6000

Includes
SOLD OUT!
Speaker Session (1 hour) – Usually "What's new?" with your tool and how it pertains to Data Vault
Hands On 2-hour session opportunity

Sponsored Dinner

List of Attendees

Full webpage on the WWDVC Europe website, with your choice of text, images, links and videos (please share the content)

Booth space at the vendor display area for marketing materials

Up to 3 free conference attendees (employees)

10% discount coupon for your customers
Gold Sponsor
€

4000

Includes
Hands On 2-hour session opportunity

Sponsored break

List of Attendees

Featured logo and company profile on WWDVC Europe website

Booth space at the vendor display area for marketing materials

Up to 2 free conference attendees (employees)

10% discount coupon for your customers
Silver Sponsor
€

2500

Includes
Sponsored break

Featured logo and company profile on WWDVC Europe website

Booth space at the vendor display area for marketing materials

Up to 2 free conference attendees (employees)

10% discount coupon for your customers