Every moment, the amount of collective data generated by companies continues to grow at an ever-increasing rate. Though, using that raw data can prove difficult considering the volume of data and frequency of generation.
To remain competitive, modern companies need to leverage a method of turning large sets of data into actionable information.
To support your company in the competitive market, Scalefree is here to help you reach and better understand your data analytics goals.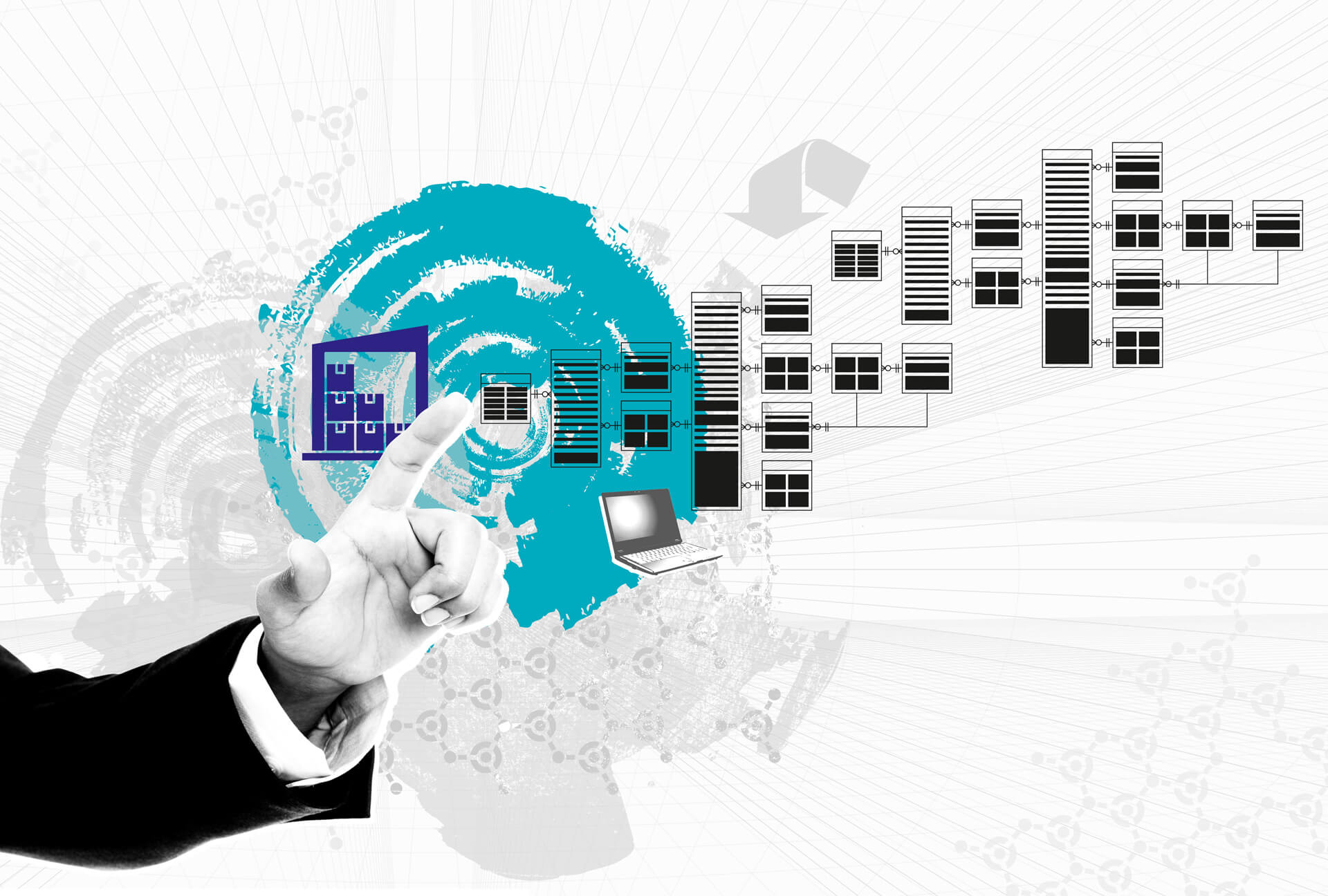 Data analytics can often be grouped into different understandings. Despite the variances, they follow the same goal, transforming data into information. Within BI systems, this means supplying end users with the appropriate access to needed data,  methods of analyzation, and BI tools to make informed decisions.
To this end, it is often seen as a best practice to determine a system's accessibility based upon the skills of the user and the complexity of the tasks while satisfying data governance and security requirements.
For a deeper dive, learn how we can help you leverage more complex aspects of data science such as using raw data directly from data lakes.
That considered, the right distribution of responsibilities and effective collaboration are mandatory. Furthermore, agility in the development of your BI system will help:
Continuously produce measurable business value like requested functions from the business user
Ensure close collaboration between customer and development
Archive improvement in quality and efficiency in each sprint
Every BI solution has two groups, the BI team and business users.
While business users focus on data analytics, the rest of the BI team focuses on:
Extracting the data from the sources
Moving the data into the enterprise data warehouse
Data transformation, data cleansing, and data preparation
Data modeling
Creating information marts
SCALEFREE AND YOUR BUSINESS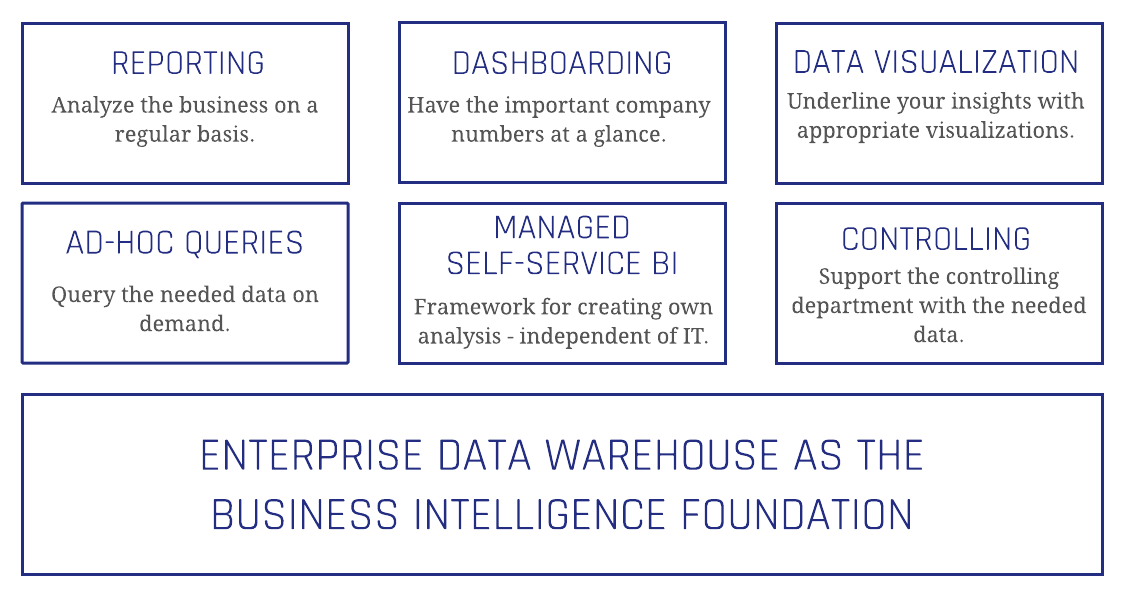 THE BENEFITS AND YOUR BUSINESS
Data analytics enables companies to become data-driven.
In your own company, this means you will be able to lead your business based on facts instead of relying on assumptions.
With it, you are better able to monitor various aspects of your business, analyze previous performances, and make better predictions of what will happen next based on the data.
That said, the keys to implementing a business intelligence solution based on data analytics are team concepts and agile development.
Within BI, the start of the project is as crucial as a successful project course. That's why here at Scalefree, our first step is to create a clear evaluation of your company's current data analytics efforts before moving forward.
With it, we can identify potential opportunities and define a clear strategy to achieve your goals.
ENABLING DATA ANALYTICS IN YOUR BUSINESS
Build the correct BI foundation (link BI)

Data basis (EDW/information marts)
Data processes (ETL/ELT)
Business processes (Agile Development)

Enable proper data analytics insights

Potential fields of analytics
Data analytics methods
Tools
Training on data analytics and proper tool usage
FROM CASUAL TO POWER USERS
In addition to supporting the implementation, we are here to help you grow as a business user.
Whereas your data analytics journey may begin as a casual user that prefers standard reporting, with our support, you can begin accessing the EDW directly.
And as a power user with a better understanding of data analytics, you become less dependent on BI developers. This enables you to take your business further.
-> Scalefree helps you become a power user!
DATA SCIENTIST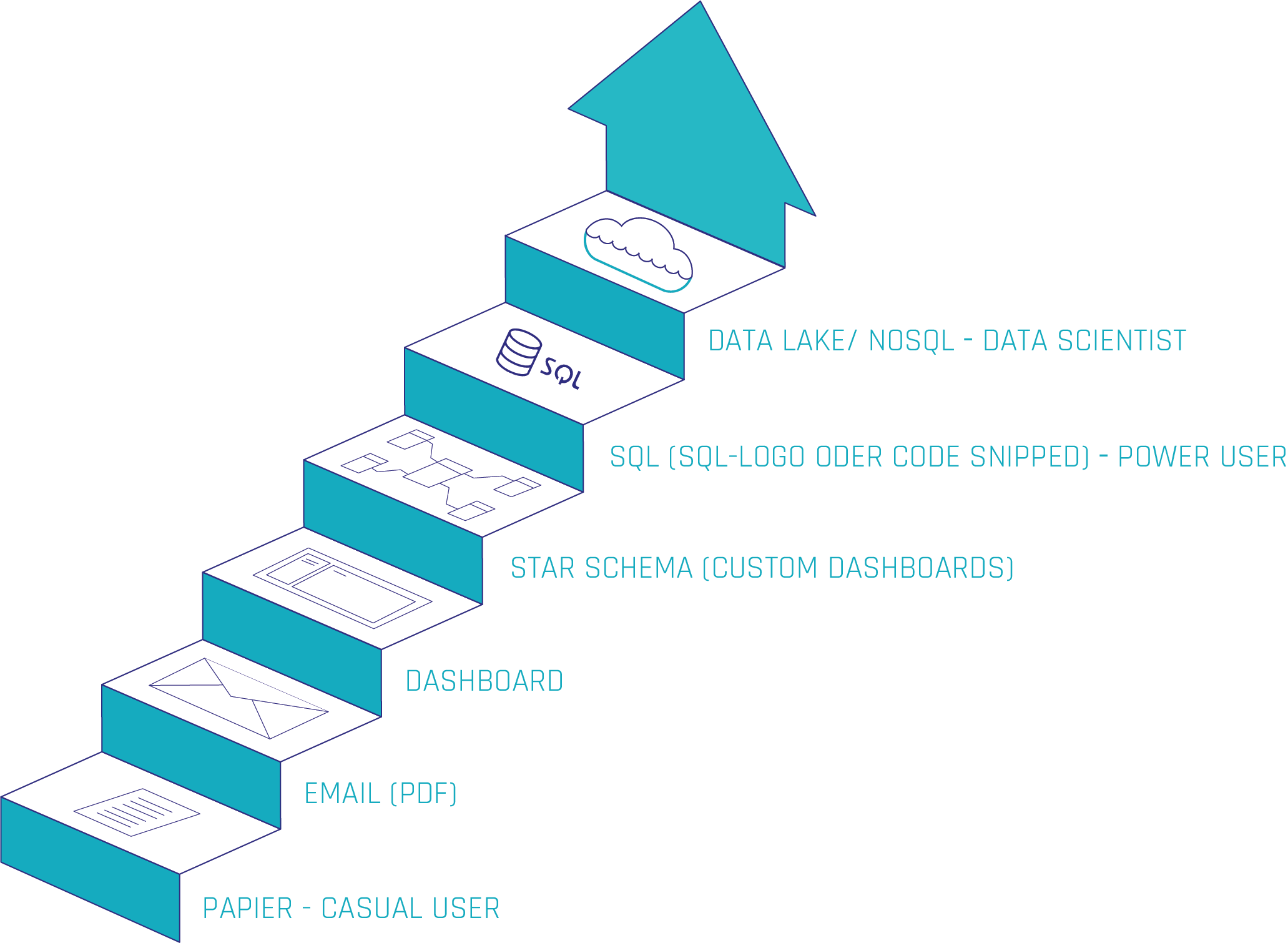 DATA ANALYTICS TOOLS
As part of our commitment to your success, Scalefree will provide your company with the right options for data analytics tools. And while the market might offer many available tools, our recommendations are based on the specific needs of your business.
If you already have a tool in place, we can help you optimize it for better performance.
Our tool selection is:
User-friendly and easy to use
Drag and drop capable
Better able to leverage insights and information
A selection of the tools we utilize: